In my recent attempt to go on a health kick, I've been experimenting with a few homemade granola recipes. I am aware that you can purchase it in order to make your life easier, but it gets expensive if you're making fruit and yogurt parfait for breakfast on a daily basis. The whole process takes about 10 minutes, I highly recommend it.
Ingredients:
3 Cups Rolled Oats (not instant)
3/4 Cups Sliced Almonds
1/2 Tbsp. Wheat Germ (optional)
1/2 Tbsp. Ground Cinnamon
1/4 Tsp. Salt
2 Tbsp. Canola Oil
1/2 Cup Maple Syrup
1 Cup Dried Fruits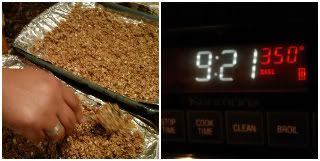 Directions:
Preheat the oven to 350 degrees.
In a large bowl combine the rolled oats, nuts, wheat germ, ground cinnamon, and salt.
In a small bowl, stir together the oil and maple syrup. Pour this mixture over the dry ingredients and toss together, making sure all the dry ingredients are coated with the liquid. Spread onto the prepared baking sheet and bake for about 30 – 45 minutes or until golden brown.
Add the fruits or any toppings of your preference once the granola has cooled down. I also added a couple scoops of brown sugar the other day and it was so delicious. Parfaits for breakfast are so yummy and nutritious. Chop up a bunch of your favorite fruits, add a scoop of plain yogurt, a tablespoon of honey and a handful of your own granola–all in a glorious disposable plastic bowl for glorious breakfast.